If you wish to improve your smile, the dentist can recommend porcelain veneers to cover esthetic imperfections in your teeth. As the name suggests, the veneer is a thin cap made of porcelain attached to the front of the teeth. It covers tooth that has been broken, discolored, or grown unevenly. The veneer can also cover unsightly gaps between your teeth.
Advantages of Porcelain Veneers
Veneers look natural and attractive, which makes them popular cosmetic treatments for your teeth. In fact, it's virtually impossible for other people to distinguish your veneer from your natural teeth.
Veneers also feel natural in your mouth because porcelain is compatible with gum tissue. Even the function of the teeth can improve with veneers. They're extremely durable as well. 
The Procedure
It only takes 2 visits to the dental office to complete the procedure. On your first visit, a small portion of the tooth structure is removed and then an impression of your teeth is taken. The veneer is then created and installed on your second visit.
The veneer can last for the rest of your life with proper care. They're even stronger at resisting chipping and stains than bonded fillings.
For maintenance, you should avoid biting into hard candy and ice, and don't bite your nails either. With proper oral hygiene and regular dental visits, your can make sure that your veneer will last for a very long time.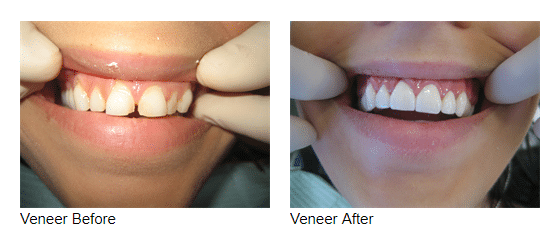 Sun Valley Family Dentistry
3334 30th Ave Suite 201
Vernon, BC V1T 2C8
Hours of Operation
Mon – Thurs: 8:00 AM – 5:00 PM